The landscape lighting system can be installed on your outdoor area in order to add beauty, change the exterior appeal of your home as well as add safety by illuminating your entrance areas and home garden. Also, if you already have a landscape lighting system, adding a new one will help in enhancing the old system, therefore, reflecting some of the new styles, layouts, and landscape updates. This post talks about some of the landscape lighting ideas you may use for your home.
Before you think about buying a few items to use for your new lighting system, you need to learn some important things as well as have an idea of the different kinds of lighting systems that you can choose from. The following are some of the best landscape lighting ideas you can use for your home.
1. Landscape spot lighting
Spotlights are a great way to illuminate and shine your landscape. Spotlights are used in highlighting critical points of your exterior or garden. For instance, you can use them to highlight certain flowers, shrubs as well as statues. This gives your landscape or gardens a sparkling look.
2. Shadowing
Another landscape lighting idea is the shadowing method. This involves projecting a shadow of an object on vertical surfaces or on a wall. To achieve this, the light is placed in front and below the object.
3. Silhouetting
The silhouetting effect is achieved by hiding the lights at the back of the trees and below the trees or the bush.
4. Pool and fountain lighting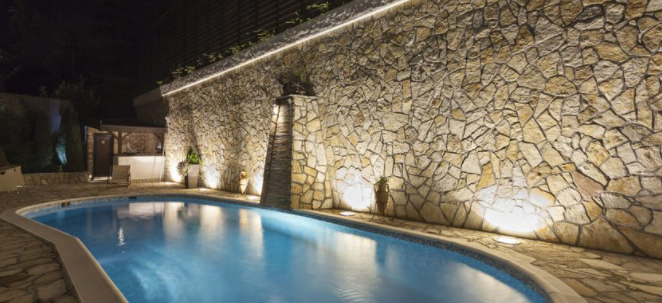 This is underwater lighting that allows you to achieve a wondrous and amazing effect in the pools or the fountains. You can do this by installing a dim light in order to add some excitement. You may also choose to light up the backside of the reflecting surface, therefore, using the water as a mirror.
5. Down-lighting or area lighting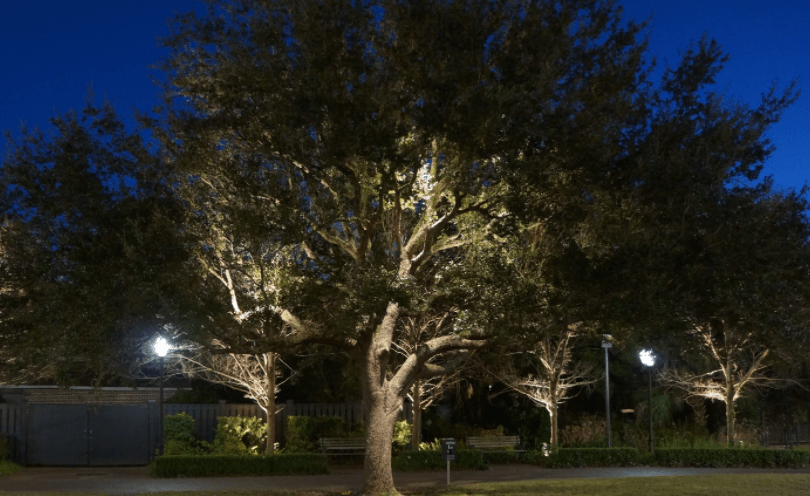 To provide wide lighting over large regions, mount lighting systems are placed high up in the trees or even on the house. Landscape flood illumination allows you to enjoy walking around your outdoor area at night while also providing protection and safety. The downlight is placed near the ground to illuminate flower beds, pathways, or steps.
6. Cross Lighting
From an impressive perspective, the illumination of a tree or monument from two or more sides shows the tridimensional shape.
7. Up-lighting
Lights pointed skyward (and occasionally concealed in the earth) produce a spectacular theater-like appearance. Use it with intriguing plants, statues, or textured walls. Magnificent views are provided by autumn foliage or swirling snow. Concentrate the light on the most important plants or things in your yard.
8. Diffused or spread lighting
Whenever circular light patterns are required for flower gardens, bigger shrubbery or floor covering, spreading lights cover a broader area with low-level lighting. Softly diffused illumination is cast by certain units, like these bollards, for terraces, patios, driveways, and walkways. Wall mounts provide a similar purpose in terms of illumination. The walkway or flower bed should be brighter than the light itself.
9. Moonlighting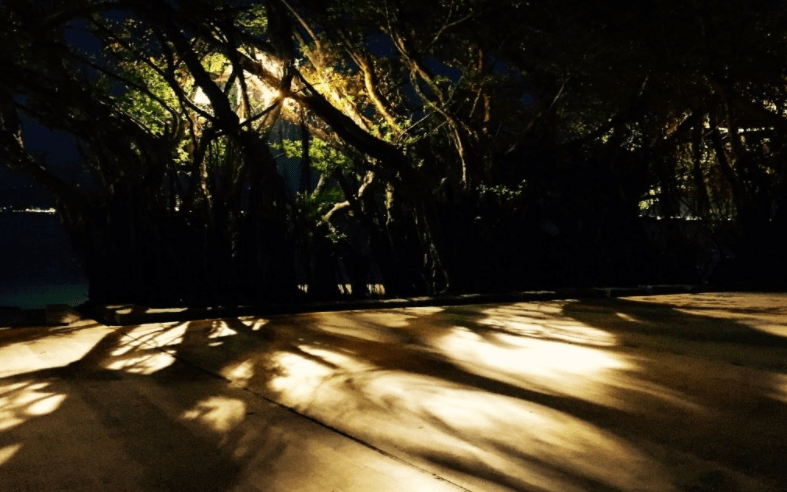 This method replicates the wonderful appearance of moonlight streaming through branches, producing beautiful shadow patterns, similar to downlighting but utilizing soft illumination placed very high up.
10. Close-By-House lighting
Prowlers and thieves can be deterred by lighting the house's side and back entrances and also walls with easy access windows.
11. Floodlighting
The hall or the woods enables thieves and criminals to discourage floodlights. Select units that appear beautiful – not industrial – if you are unable to hide the light source. Set the timers, mobile photos, or motion sensors to automatically set. White long lines are mostly utilized for walls, veneers, or signage; gentle light qualities and the best power saving are provided by compact fluorescent lights.
12. Step Lighting
Step lights are a wonderful choice if your stairs need to be flashed up. It is extremely simple to install. They can not only assist keep your family safe by offering improved visibility at nighttime on the stairway. Step Lights are excellent for any step since they come in various colors and a range of pack sizes, so you may purchase as few or as many as you require. Step Lights are also a great option.
Solar Step Lights are waterproof and may be installed in damp areas, but they should not be subjected to temperatures lower than 14 degrees Fahrenheit for best operation.
13. String Lighting
This is a kind of lighting with low voltage accents. If you want to set a positive and cozy environment, the string lights are the best solution, and they are also good for entertainment. These lights may be put on the floors of your house and used for outdoor and patio furniture illumination.
Make sure you choose string lights for the waterproof lighting. You should also consider using a rechargeable battery, solar-powered string lamps, or traditionally powered by batteries to look for string lights. Most of all, long-lasting LED lights should be provided. These lights are extremely nice and assist in removing the risk of running so many strings.
14. Grazing
Your lights can also be grazed. This involves placing the lights next to or close to certain surfaces in order to illuminate and bring out the texture of an object. For example, you position the lights close to wood shingles, tree bark, an attractive door, or a masonry wall. If the surfaces are smooth, we suggest not using the grazing method.
15. Deck Lighting
This is a medium-high-intensity standard voltage illumination. Deck lights are designed in such a way that they make it easy for people to move around the outside area at night. This also helps you avoid stumbling by removing visual clutter. Furthermore, these lights enhance the visibility of some of your garden's characteristics.
They're arranged in a certain order in grooves. As a result, you can stroll right by these lights without even realizing it.
Types of Landscape Lighting Fixtures
1. Box shape, bullet, and cylinder shape
These patterns assist the light beams in concentration and direction. Some additionally turn off the light and safeguard the lamp and plug against moisture and dirt.
2. Diffuse and spread
These low-level devices are meant for illuminating the flora, perimeter plantations, entrances, steps, and routes in a larger pattern.
3. Well Light vs. In-Ground Light
The light source is concealed by the concealing of these lights with the soil. Use in the up-lighting, textured walls of trees and plants.
4. Accent or Spot
Flexible/adaptable devices that produce a concentrated downlight and moonlighting when mounts are positioned above.
5. Close-up of a wall bracket, a close-up of a ceiling, and a chain lantern
These cordless lantern-style devices, placed at the front doors, across driveways, and on porches, throw out light, direct or disseminated.
6. Post Lights and Bollard
These stands provide light paths, stairs, and walkways to the yard, terrace and pool regions. They also offer beautiful driving lights.
7. Fountain Lighting and Swimming Pool
These devices are located at the ends of pools and wells at the sidewalls. For light modification, wet niche attachments may be discarded, but dry niche attachments require access to the rear of the pool shell. For this use, colorful lighting is common.
8. Timers, Transformers, and Other Accessories
Landscape illumination and energy conservation are made easily accessed by automated timers, photos, or movie sensors that activate the lights at night and in the morning.
Landscape Lighting Tips from the Pros
The following are some suggestions for achieving a professional appearance when it comes to landscape lighting ideas.
Hide the lighting systems source if at all feasible, unless the fixture is a decor.
Don't go overboard, and the lights shouldn't be too bright
Experiment with a variety of lighting methods.
Set up an automated mechanism to switch lights on and off, such as a timer.
Be attentive to your surroundings. Make sure lights aren't shining into their windows.
Outdoor Light Bulbs
Don't ignore the light bulbs of the landscape. The vast range of bulbs offered allows you to adjust your choice to your requirements. You could like gentle lighting and strong lighting in certain locations in others. The power consumed is a measure of the watts; however, some bulbs are lighter than others with similar wattage. Recall the greater the luminous distance, or the higher intensity you want, the more light production.
This may seem clear that bulbs that provide more light typically cost more efficiently. Some of these are much more expensive, but you also have to examine the rated light life as some of the lamps cost many times more often.
Certain kinds are better than others. For instance, low voltage can conserve energy by focusing beams of light, but typically it lacks a corresponding line voltage streaming beam. New lightbulbs of 65 and 120 watts produce up to 25% more light. Soft illumination and substantial energy savings are provided by new compact fluorescent lights. Mercury vapor lights give excellent energy efficiency illumination but design a cool hue for vegetation exclusively. LED bulbs or lights with integrated LED arrays are the best of all.
Conclusion
There are several landscape lighting ideas that you may use for your outdoor system. The landscape idea you choose depends on many factors, including your needs, the items available, and costs. We hope this article helped you with some of the best outdoor ideas.