This is how to wash pottery barn slipcovers. Use a detergent and a toothbrush for spots, use a stain remover to remove tough stains, remove the slipcover and make sure you wash the part that covers the sofa first in cold water for just 20 minutes, hang the slipcovers outside on a clothesline while still damp, put it back on the sofa and smooth out all the wrinkles. Repeat the whole process with the cushion covers.
Pottery Barn slipcovers are a great addition to your home as they give you both of two worlds. They let you coordinate your furniture, allow your pets on the couch, and also allow you to change the lining room decor with just a couple of inexpensive throw pillows, which is awesome! Pottery Barn slipcovers are available in over 80 colors and 12 fabrics including velvet, cotton twill, and microsuede.
According to pottery Barn, the slipcover care is machine wash cold, gentle cycle with like colors, and only use only non-chlorine bleach for tough stains. Tumble dry low, and warm iron when needed. You can as well clean spots with a damp white cloth.
Many people believe having pottery Barn sofas in a house full of kids and pets is crazy, but that's not true. These are of high quality and the key is they are slipcovered and every single visible part is washable. The pottery Barn sofas may be a bit expensive and may not be within everyone's budget, but buying quality furniture for your home is a great investment and will actually save you money in the long run as you will stay a long time without thinking of replacing your furniture.
How to wash pottery barn slipcovers
The process of washing your pottery Barn covers is quite easy especially if you got good weather. The process involves 4 simple steps and after that, you're good to go. You can take a look at the steps on how to wash slipcovers for the sofa below:
Step 1:
Use a detergent and a toothbrush to treat any spot on the slipcover while it's still on the sofa. When cleaning your pottery Barn slipcovers to remove tough stains, use a stain remover such as "Shout Laundry Remover", this product is tough on stains but very gentle on the fabric. It works on a wide range of everyday stains like food, grass, dirt, and blood.
Step 2:
Remove the slipcover and make sure you wash the part that covers the sofa first. Wash it in cold water for just 20 minutes. Wash for about 30 minutes if your little ones made the cover really dirty.
Step 3:
Hang the slipcovers outside on a clothesline and while it is still damp, put it back on the sofa and smooth out all the wrinkles. If you prefer, you can iron it instead.
Step 4:
Repeat the whole process with the cushion covers.
On the other hand, you can use a vacuum cleaner to remove pet hair and dust. The sofa can get really dusty, so the vacuum cleaner is best for this job.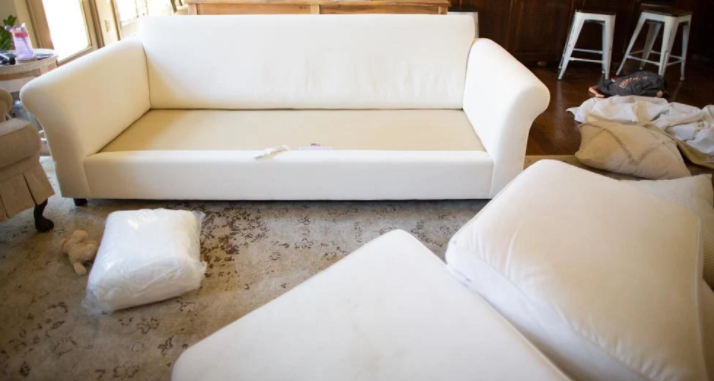 How often should you wash pottery barn slipcovers?
If you want your sofa to always remain clean and beautiful, you should wash your slipcovers every 2 to 5 months. Washing them every month or two may seem like a daunting task but remember, the longer you keep them unwashed the more dirt gets accumulated and they become hard to wash.
How to care for pottery slipcovers
Every time, before you decide to wash your slipcover, start by running it in an empty wash cycle. This helps in making sure that the cover does not contain any bleach, detergent as well as pollutants that may cause spots or stains.
Washing the entire slipcover is also recommended. This is because, if you decide to only wash certain areas of the furniture, you may experience color changes on your cover. Therefore, this means that the entire cover or all the other pieces should be washed at the same exact time in order to minimize the chances of creating color variations as a result of the wash. 
Another thing to keep in mind is to ensure that your washer is not overburdened or overloaded. For instance, you may choose to start by washing the body cover, then, in the second load, you may wash the cushion coverings.
The zips on the coverings should also be kept closed when you are washing in order to prevent damage. 
Are barn slipcovers of pottery excellent quality?
The couches are costly, so they're just ready. However, Pottery Barn often offsets deals by 15-30%, so take advantage of that. Sales help a lot when buying a large-cost item. Although these sofas are expensive, they are of excellent quality and manufactured on request.
Even though your slipcover is machine washable, having it cleaned by professionals is essential if you want it to look good. A sofa's body covering is a very heavy load that necessitates the use of a "laundromat" washer.
How can you stretch a shrunken slipcover?
Immerse the sofa cushion cover for a few hours in a solution of cold water and fabric softener. Take the item and put it flat to dry. It's never easy to get back to your previous shape, but a simple hand stretch can assist. Pull the opposing corners and borders carefully and work around the cover
Is it possible to wash my slipcovers in a washing machine?
Whether or not you wash your coverings in a washing machine is determined by the fabric. Before you toss the slipcovers into the washing machine, read the care label. You may always get them dry cleaned if you're not confident about the washing's durability. If not, wash the slipcover with a light detergent in cold water in a soft cycle.
When it comes to pottery barn couches, how long do they last?
Most people feel that you get what you pay for. Nevertheless, Pottery Barn sofas are of great quality. That is to say, expect it to last for at least 10-12 years.
Is it possible to buy fabric from pottery barn?
Only the best fabrics in a variety of designs are chosen by Pottery Barn. Pottery Barn sells Custom-Made Pillows as well as fabric which also lets you so make your own cushions, pillows, and curtains out of the same high-quality materials used by pottery barns.
What's the best way to keep my covering in place?
Slipcovers are held in place with hook-and-loop tape, ties, or other similar means, although the covers occasionally require further assistance to stay in place. Tuck Snugly Make sure the slipcover is clean and wrinkle-free by washing and drying it. Place the cover in the middle of the couch. Tuck the excess fabric into the couch's cracks.
How to dye the slipcovers
What is the Best Way to Dye a Sofa? Before anything else, the Slipcover Covers should be washed completely and left damp. Use the Rit color remover as directed on the packaging. Then, fill up your washer with hot water, make sure it is enough to allow the fabric to freely move). Then dissolve 1 cup of salt in around 4 cups of hot water. In the washer, add the covers and agitate for 40 minutes.
Conclusion
Slipcovers by pottery barn are very good for your home. Caring for and washing these slipcovers is easy. It involves machine washing and avoiding the use of chlorine bleaches which may cause stains, tumble dry low, warm iron, or wipe the area with a moist white cloth, if necessary. Remove quickly, then slip over the frame and/or cushion(s) to finish drying to prevent wrinkles.